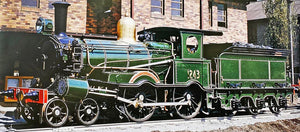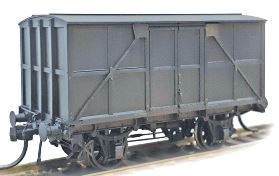 Their code stood for 'Arnott's Biscuit Van', and its legendary contents made the ABV a very famous class of railway vehicle. Their sole reason for being was to transport the products of 'Arnott's Biscuits' from their Nth Strathfield factory to all over NSW.
The reason behind their introduction was due to a packaging change made by Arnott's in 1962. Previously biscuits were bulk packed in metal tins and were sold in shops by weight, the waterproof tins would adequately protect the biscuits whilst being transported in general louvred vans. In the early 1962, Arnott's began to pack their products in smaller quantities and in transparent packets, which were then packed into cardboard boxes, these boxes now needed to be kept dry, and this bought about the need for a weatherproof vehicle.
The vans were modified from CV covered vans, their interiors were lined with Masonite and sealed from the elements. External diagonal bracing was added to strengthen the aging wagons. This bracing was an easy way to spot an ABV on a train.
CLICK ON LINKS To Order Online
CLICK ON LINK TO DOWNLOAD PRINTABLE FORMAT
PRE Order: ABV 'Arnott's Biscuit Van' FORM: